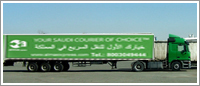 ALMA Express is a professionally managed Courier company that offers premium quality services Kingdom wide.
We offer an Integrated Express Service Network for swift, safe, competitive, cost-effective and reliable transportation and distribution of Parcels and Commercial goods. Our range of services is exclusively designed to suit your changing business needs. Today ALMA Express offers an extensive network
Kingdom wide with operations strategically located in all our
major cities and hubs.
ALMA Express guarantees a comprehensive suite of quality services using cutting-edge technology.